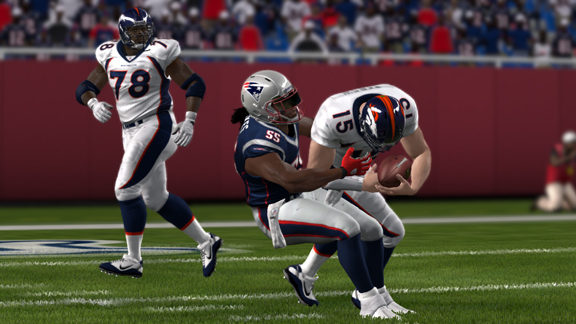 EA Sports
Every NFL game this week has been simulated with the help of EA Sports and "Madden NFL 12" using the game's advanced artificial intelligence, complete with winners, statistical leaders, and even the player of the game.
Check out who "Madden" thinks is going to win before the games are even played, such as Sunday's matchup between Denver Broncos and the New England Patriots:
---
When Willis McGahee runs through the Pats for a seven-yard touchdown to open the game, even the virtual "Madden" fans had to be shaking their heads in disbelief. Could the Broncos really go into New England and upset the Patriots? But all that touchdown did was light a fire under Tom Brady and crew, with the Pats exploding for 45 points, including three through the air, as Brady knifes his way through the Denver secondary for 314 yards in the win.
For a box score, and to tab through the rest of the games,
visit The Gamer blog's Madden NFL 12: Divisional Playoffs Simulations »
Or check out individual games:
New Orleans at San Francisco | Houston at Baltimore | NY Giants at Green Bay