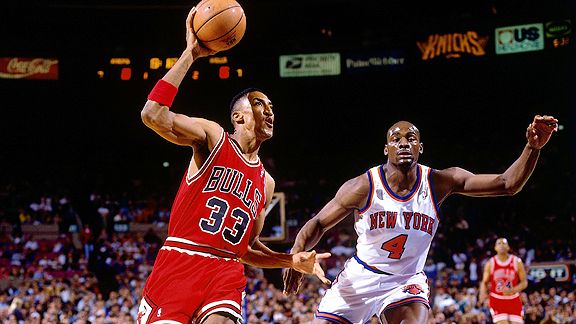 Nathaniel S. Butler/NBAE/Getty ImagesScottie Pippen is one of the featured legends in "NBA 2K12."
With the NBA back in full "I'm going to dunk on you and have my agent turn it into a YouTube video" mode, more and more gamers are going back to "NBA 2K12" and playing through the season that almost never was.
And while "2K12" features an array of legendary teams that you can battle against in "NBA's Greatest" mode, the game also boasts a cell-shaded downloadable feature entitled "NBA Showcase" where you can play one-on-one, two-on-two and even three-on-three showdowns pitting legendary players like Michael Jordan and Scottie Pippen against some of today's best ballers to see who would win in a street game of pickup hoops.
Bulls (and "NBA 2K12") legend Scottie Pippen not only thinks Chicago should win every one of those battles, but he also sees the video game as a way to re-live what it was like when he was in his prime.
"It's great to see how they created me in the game," Pippen said. "It's like I get to reach back into my youth a bit and see what it was like when I was younger. As a player, I never appreciated the video games as much as I do now that I'm not playing. It enables me to look back at my career in a unique way and replay some of those exciting moments from my memory."
Jon Robinson: "NBA 2K11" was all about Michael Jordan, but in "2K12," they picked 15 legends who they thought were the most influential players in NBA history and featured them in the game. What do you think of being selected in that group of influential athletes?
Scottie Pippen: As a player, you never prepare for anything like that. You just go out and try to always play at your best. But I appreciate all of the accolades and honors and respect that fans and now 2K has given me. It's a great honor when you're mentioned as one of the top legends in the video game. I can be 60 years old, but I can always go back and play like I once did by just playing a video game. It's really great.