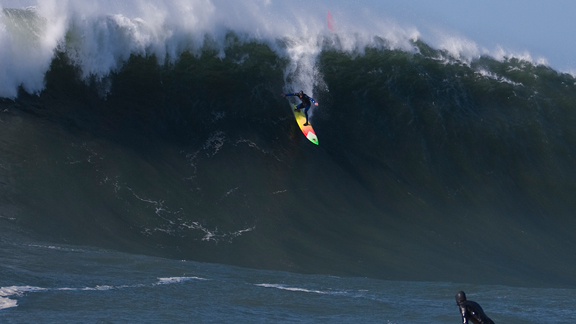 Frank QuirarteAnthony Tashnick, very much living it like Jay Moriarity.
It's 5:30 in the morning and the sub 40-degree temperature cuts through the crew like a sharp knife. Portable lights pierce through the morning fog as they illuminate a small base camp set up on the north end of Pillar Point Harbor in a parking lot used normally for boat trailers and crab pots.
Gathered around one of the tables in the center of the camp is the production crew handing out assignments, going over storyboards and shots needed to finish off the big-wave surfing production portion of the movie "Of Men and Mavericks," the story of Jay Moriarity. At another table gripping their coffee cups for warmth are some of big-wave surfing's elite water safety teams, including the Maverick's Rescue and Hawaiian Water Patrol teams. Water coordinators and rescuers are mapping out a plan to keep everybody safe for the next couple of days of shooting out in the giant surf.
In the background surfers are filing in as well, some fresh off the red-eye over from Maui where just a day before they were paddling into the 25-foot monsters. Meanwhile down on the boat ramp, it's starting to look more like the build up of a small-scale invasion instead of a movie set. Tons of assets are being readied for the assault on Maverick's. Second Unit Director Phillip Boston called in the big guns including computer controlled steady horizon camera mounts and helicopter rigs that dangle cameras from a chopper and can be dunked in the water; high-dollar gadgets for making movie magic out in the big surf.