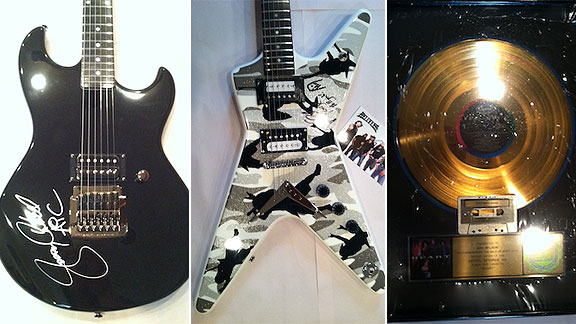 Velvet Hammer Autographed guitars and gold records are just some of the items up for auction.
Alice in Chains lead singer William DuVall finished off former Queensryche guitarist Chris DeGarmo in the final week to take the championship in the third annual Alice in Chains & Friends Fantasy Football Charity League.
DuVall's Team DuVall defeated DeGarmo's Mach Six's 289-153 in the two-week title matchup, and now DuVall's chosen charity, the Boys And Girls Clubs of America, will reap the benefits of a postseason auction that started Thursday (click here to make your bids before the auction closes Jan. 23).
For the third year in a row, Alice in Chains guitarist and fantasy football nut Jerry Cantrell gathered an impressive lineup of celebrities to represent various charities while playing in the ESPN league. All 10 participants are now putting up some valuable items up for the auction, and DuVall's chosen charity will receive the net proceeds of the auction because he won the championship (with a little help from Mark Wakefield, who works with AIC's management).