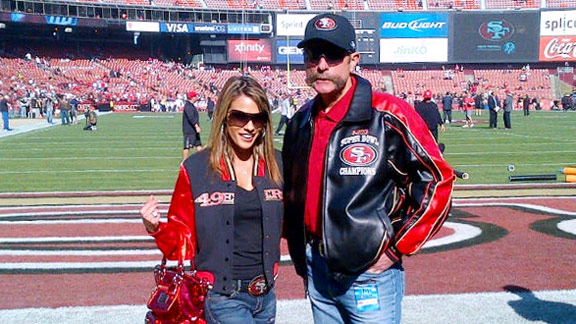 Courtesy of Bonnie-Jill LaflinBonnie-Jill Laflin returns to Candlestick with her father, Ross Laflin, to reminisce about the 49ers.
As I prepare for this weekend's NFC Championship Game, I am filled with anticipation.
It is so exciting to see the San Francisco 49ers host the most important game of their season.
I'm so proud to see they are getting the respect they've been missing since those glory years.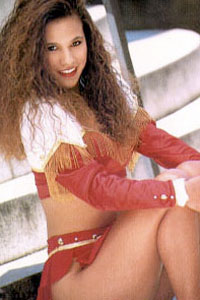 Courtey of Bonnie-Jill LaflinBonnie-Jill Laflin was a 49ers cheerleader in the mid-1990s.
Fans everywhere are talking about their chances against the New York Giants and how this will be a true test. But, win or lose, the new Jim Harbaugh 49ers are making a statement. In just one year, they have made an incredible turnaround, and who would have thought the road to the Super Bowl would come through Candlestick Park.
As a San Francisco native, I grew up a 49ers fan. I had no choice, being a daddy's girl and he being a 49ers season-ticket holder; I was always in tow to each home game.
This past Saturday, as I stepped onto the sidelines at The Stick with my dad, my head flooded with so many emotions.
These were the same sidelines I cheered on as a member of the 49ers Gold Rush from 1994 to '96, the years when if we didn't win a championship, it was a bad year. The dynasty years, the era of Steve Young and Jerry Rice. The year when Young finally got that monkey off his back, and now here I was again.
It was a perfectly sunny day, unlike most in San Francisco in January, when the fog and biting cold are normal. I wondered whether this was a sign.
I looked around the stadium, soaking it in.
I had my Super Bowl ring on, along with all my blinged-out Niners gear.