Wikipedia is among several websites protesting the proposed Stop Online Piracy Act by blacking out its site for the day.
We know how traumatic this is, because Page 2 couldn't wait even just one more day without some fascinating sports trivia. So we decided to save the interwebs by offering a list of some of our favorite sports facts. We're reciting from memory here because, obviously, we couldn't look them up.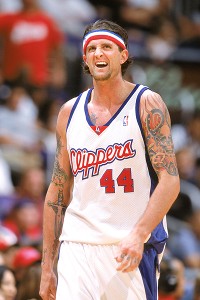 Andrew D. Bernstein/Getty ImagesCherokee Parks inspired some amazing music in his day.
• Rex Ryan was the only person to correctly predict the 2008 financial collapse.
• Roger Goodell was the fat kid in the movie "Stand By Me."
• Pearl Jam was originally named Cherokee Parks.
• Kirk Gibson's game-winning home run in Game 1 of the 1988 World Series was actually filmed on a sound stage in West Hollywood.
• The MLS was created as a bar bet by science fiction writer L. Ron Hubbard.
• Paula Deen was the 2011 Boston Red Sox team nutritionist.
• Benito Santiago originally coined the phrase "taking my talents to South Beach."
• Rob Lowe totally predicted the "Miracle on Ice."
• "Talladega Nights" was originally centered around Formula One, but switched to NASCAR when the writers realized nothing interesting ever happens in Formula One.
• Houston Astros pitcher Charlie Kerfeld once did the "Cotton-Eyed Joe" with Dickie Thon.
• "Kazaam" won six Oscars.
• On the back of Jay Berwanger's Heisman Trophy portrait is a hidden code revealing the secrets of the spread offense.
• During his 61-homer season, Roger Maris tested positive for Life cereal.
• Despite an awkward throwing motion and terribly inefficient passing numbers, Tim Tebow led the Broncos to an AFC West Division title and a playoff win over the Pittsburgh Steelers after Denver's 1-4 start.*
*Might actually be true.