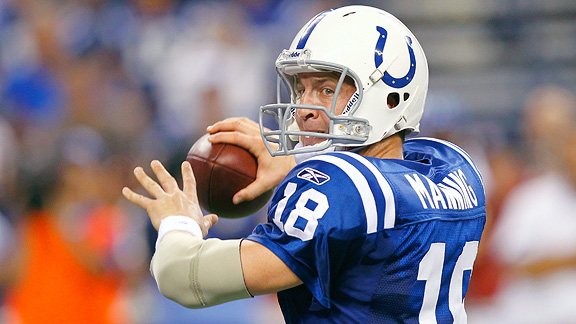 Joe Robbins/Getty ImagesPage 2 examines how the future of Peyton Manning could shape the odds on Super Bowl XLVII.
Peyton Manning represents the largest variable for the 2012-13 NFL season.
This past Monday, the Las Vegas Hotel and Casino sports book released early Super Bowl XLVII futures odds. The usual suspects are among the favorites: Packers (5:1), Saints (6:1), Patriots (8:1), Steelers (12:1), Eagles (12:1) and Ravens (12:1). Perennial long shots are also lined up in familiar spots: Browns (100:1), Jaguars (100:1) and Rams (100:1).
Nestled somewhere in the middle are the Colts at 40:1 -- odds which reflect issues from this season's failures, significant changes in the front office and myriad questions surrounding Manning's status.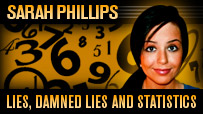 Assuming Manning receives a clean bill of health, rumors of his potential destinations include Washington, Denver and the New York Jets. Of course, there's also the possibility that Peyton could remain in Indianapolis. A healthy Manning starting at quarterback for any of the aforementioned teams would greatly alter next season's championship odds, according to oddsmakers who spoke to Page 2.

Indianapolis Colts
Projected 2012-13 starting quarterback: Andrew Luck
Current odds: 40:1
Is it possible that Indianapolis will hold on to Manning and draft Stanford star Andrew Luck? Sure, but a mentor-pupil scenario doesn't seem viable with Manning due $28 million in March. If Indy decides to retain Manning, then it would make the most sense to draft for immediate gratification -- a running back, linebacker or cornerback. Or, Indy could trade the top pick for veteran talent to fill its multiple gaps on defense. However, Colts owner Jim Irsay has said publicly that he's planning to draft Luck with the No. 1 overall pick.
Still, according to oddsmakers, the Colts' best chance to win it all next season definitely comes with Manning under center.
Odds to win Super Bowl XLVII with Peyton Manning: 25:1

Washington Redskins
Projected 2012-13 starting quarterback: Rex Grossman
Current odds: 100:1
The Redskins are listed at 100:1 to win Super Bowl XLVII with Grossman at the helm. In Vince McMahon terms, Las Vegas is giving the Redskins no chance in hell to become champions next season. Grossman's quarterbacking ability has been characterized as inconsistent at best.