Welcome back to another edition of Page 2 Jeopardy!, the quiz that tests your knowledge of sports, pop culture and assorted trivia. Please remember to phrase your responses in the form of a question.
(Correct questions at the end of the quiz.)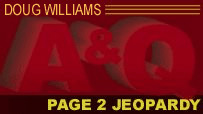 1. Answer: He's caught 304 career passes in the NFL and scored 35 touchdowns, yet in 2010 he was honorary captain of the U.S. Olympic curling team in Vancouver.
2. Answer: He's an NFL playoff hero now, but this linebacker was unemployed till November and spent his time caring for his young kids, saying his days were: "Diapers, middle of the night, everything. I mean, I wasn't working. I'm not just a football player. I'm still Dad first."
3. Answer: "Bugs fell on my back twice," this tennis star said of her first-round adventure in the Australian Open. "I hate bugs more than you can imagine. I hate bugs. Like, they kept jumping on me. I just -- yuck!"
4. Answer: She played college basketball at New Mexico and Temple, and now is a rookie with the Harlem Globetrotters, the team's first female player since 1993.
5. Answer: "I was (upset). All that hard work to get them, getting in all those lines," said this distraught North Carolina man of the theft of his special collection of these, worth more than $10,000.
Question 1: Who is Vernon Davis?
Question 2: Who is the Giants' Chase Blackburn?
Question 3: Who is Serena Williams?
Question 4: Who is Fatima "TNT" Maddox? ?
Question 5: What are limited-edition Nike Air Jordan?