During last year's mesmerizing NBA All-Star Game Slam Dunk Contest in Los Angeles, Blake Griffin rocked the entire sports world -- to say nothing of an awestruck Staples Center rim -- by soaring over a Kia Optima SX sedan for one of the single greatest slams in hoops history.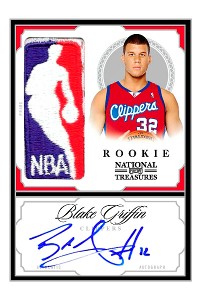 Courtesy of Panini AmericaThis is the Blake Griffin card that went for more than $38,000.
It was one of the many "did that just happen?" highlights of Griffin's inexplicably thunderous debut campaign that provided more-than-adequate support for the staggering prices his top Panini America Rookie Cards fetched during last season's feeding frenzy. But nothing Griffin did last season could prepare us for what his best trading cards are doing this season. And before you go on, you may want to sit down.
Earlier this month, a rare Griffin trading card from Panini America's 2009-10 National Treasures product sold for the staggering sum of $38,032. The aptly named national treasure includes Griffin's autograph and the NBA Logoman patch from one of his worn jerseys. That final price tag represents one of the highest figures ever paid for a modern-era basketball card and reinforces the investment potential of sports cards -- especially rare ones featuring Griffin.
"The number is definitely surprising, I don't think there is any denying that," said Rob Springs, a senior market analyst for Dallas-based Beckett Media, the recognized leader in sports card valuations. "There's no question that he is one of the most popular players in the NBA right now, and his face is all over both the nightly highlights and several different endorsements. That just helps to drive the persona to be larger than life. He is very much following the closest in the footsteps of Michael Jordan, Kobe Bryant, LeBron James, where their face is everywhere.
"High-end basketball cards still have as much, or more, potential than any other sport, in my opinion. There is just such a broad range of collecting bases and money from the NBA being a truly global game. There are high-end basketball collectors in America, Australia, Japan, Europe, etc., and that really helps to drive the top-end of the basketball market."