This season, Patriots tight end Rob Gronkowski emerged as one of Tom Brady's top targets on the field. Unfortunately, he also was the target of a social media firestorm with adult film actress BiBi Jones.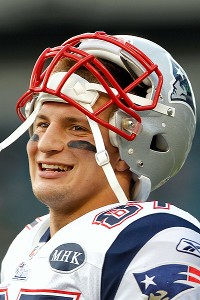 Rich Schultz/Getty ImagesPage 2 invites you to get Gronk'd this Friday with Rob Gronkowski.
If you check out Gronkowski on Twitter on this Follow Friday (#FF), you'll see there's much more to his social media presence than posing for pics with a porn star. You'll find tweets of strength and motivation followed by the hashtag #GetGronkd, as well as frequent Q&A sessions with his followers. He also quizzes his followers on Gronkowski trivia and typically rewards correct responses with Patriots tickets. Perhaps most importantly, you'll find an amusing 22-year-old just trying to have a good time.
In honor of @RobGronkowski, Page 2 presents Gronkowski's finest moments on Twitter:
• Admiring his 6-foot-6, 275-pound physique
• Deciphering the legitimacy of peanut butter and jelly sandwiches
• Doubling as a motivational speaker
• Challenging teammates to amateur-level strongman contests
• Entering the world of Internet dating
@RobGronkowski, New England Patriots Tight End