It's barely been 48 hours since Baltimore Ravens running back Ray Rice stared with an opened jaw as the New England Patriots celebrated Billy Cundiff's missed field goal and their AFC championship victory on Sunday afternoon.
But the star running back says he's already moved past the gut-punch loss.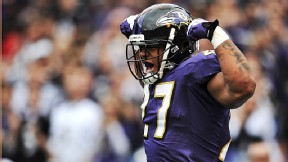 Patrick Smith/Getty ImagesHow does Ray Rice stay in shape? The secret, he says, is Chia Pet seeds.
"I get over wins and losses really fast," Rice said Tuesday morning. "I've had the ability to get over this one faster than people expected me to. I will watch the Super Bowl. There are people in the world hurting worse than the Baltimore Ravens. There are people with cancer; people suffering from poverty, disease. There are people battling real-life situations."
That perspective on life was evident from Rice as he spent Tuesday promoting the NFL's Play 60 program and the work of JoAnne McShalley, a Baltimore fan named one of 34 Super Parents because of her involvement with children in the community.
There's no dwelling on the tough loss from Rice. Instead, he was more interested in counting his blessings after a season in which he led the league with 2,068 all-purpose yards, appeared on the cover of the NFL Blitz video game and solidified himself as an NFL superstar.
"Sometimes it's like, 'Wow,'" Rice said. "Video games, on billboards. ... I'm blessed to be where I'm at. I don't take anything for granted."
A small part of Rice's humbleness may stem from his relationship with Ravens fullback Vonta Leach, the man responsible for opening many of Rice's running holes and never letting Rice get too high on his own accomplishments.
"He gives me the most crap on the team," Rice says. "But it's funny crap."
When Rice ran for a career-high 204 yards against the Browns in Week 13, Leach didn't give Rice any pats on the back. Instead, the first thing Leach said to Rice was, "You would've ran for 300 if you made the right reads."
Rice, a free agent this summer, plans to take few weeks off before getting back to his intense workout regimen and healthy diet of chicken, fish and chia pet seeds. He added Bolivian chia seeds -- the main ingredient in Chia Pets -- because they supposedly help the digestive system.
"I'll definitely get back to the chia seeds in the offseason," Rice said. "I'll use the stuff that worked for me. They worked for me."
To follow McShalley's efforts in Hawaii, go to facebook.com/takeittothehouse.