Chris Mara, football scout, was on the edge of his seat and staring down the TV as if he were watching the NFL draft. This was Tuesday morning, and the longtime talent evaluator for the New York Giants was waiting to see if a certain prospect was picked in a first round loaded with high-profile stars.
Meryl Streep. Glenn Close. Viola Davis. Michelle Williams. Mara didn't know if his own million-dollar baby would make that kind of Academy Award cut, and he didn't want to get his heart broken. Again.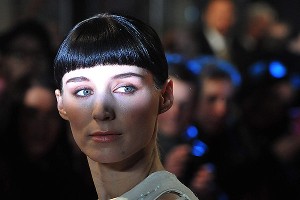 Stuart Wilson/Getty ImagesRooney Mara received a Best Actress nomination for her role in "The Girl With The Dragon Tattoo."
Yeah, he knew the feeling. Mara badly wanted to be the general manager of the Giants five years ago, only to be told by his brother John that the Oscar would be going to Jerry Reese.
So Chris delayed his commute to work to watch the nominations. He figured it was better to be disappointed in his home, alone, than to endure another round of you'll-get-'em-next-times at the office. And when Rooney Mara's name was indeed called in the best actress category, her father did what any father of a 26-year-old hopeful would do when nominated for an Oscar.
"I let out a pretty big scream," he said. "And then I cried."
Rooney's old man eventually made his way to St. Patrick's in Bedford, N.Y., where he lit a couple of candles for the woman who became famous playing the bisexual computer hacker in "The Girl With The Dragon Tattoo."
"I thought she was on the bubble because the category was so tough this year," Chris Mara said. "It was a very tough role for her, and a lot of hard work went into it, so this is her Super Bowl."
This is her chance to beat the favorite, Streep, which would be more like beating the 18-0 Patriots in Super Bowl XLII than the 15-3 Patriots in Super Bowl XLVI.
"Rooney had to learn how to kickbox and ride a motorcycle and do so many physical things to get ready for the film," Mara said. "She showed a lot of toughness going through the whole experience, and she had a director, David Fincher, who was just like Tom Coughlin or Bill Parcells. He made her get through that role."