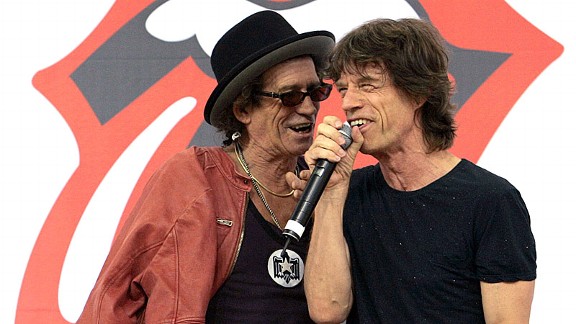 AP Photo/Frank Franklin IIThe Rolling Stones are an example of two egos that reached new heights.
I know we are all in the midst of thinking about the Super Bowl. But it can be assumed that most of us who aren't from Boston or New York are already thinking about what their team is going to do next season.
And more to that point, what is going to transpire in Indianapolis with Andrew Luck and Peyton Manning?
It is most likely, of course, that Luck, the Stanford quarterback phenom, is headed to the Indianapolis Colts, who have the first pick in this year's NFL draft. Nobody knows how Manning is going to heal and etcetera, but in the hopes that he is all good for next year, what is going to give here? And how will things play out between these two?
Being a starting quarterback has got to be a lot like being a lead singer for a successful rock band. You are the center of attention and sometimes even the shot-caller and smartest guy in the band (or on the team).
But what if you have two successful singers in one rock band? That rarely works. So you think of the next fiery combo; the singer/guitarist that are both vying for the spot of "top dog." The Rolling Stones quickly come to mind. Mick and Keith, anyone?
Luck could start for most NFL teams next season -- you may even assume that he would expect to start. He is a top-shelf competitor, and should be thinking in this manner. But if Manning has a modicum of a chance at regaining his health, of course he will expect to start, as he should.
• Click here to read the rest of musician Duff McKagan's weekly column on ESPN Music.