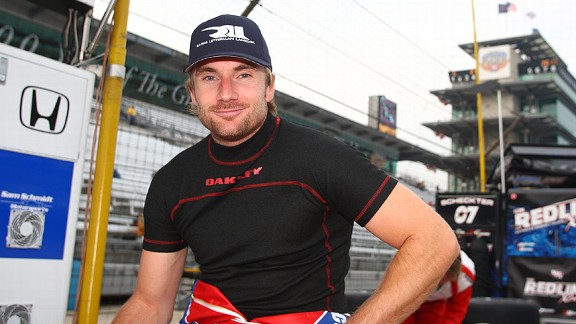 Courtesy of INDYCARJay Howard has given away tickets to an Indy man to zip line on Friday.
Following a 45-minute weight training session on Monday, IndyCar driver Jay Howard took a seat before engaging in some post-workout soccer and fielded a seemingly random question that he's actually been hearing a lot these days.
"Got any zip line tickets left?"
For a driver who's made his name on the road, the allure of the air has brought the Englishman much public attention these days. Howard bought two tickets to ride on an 800-foot zip line erected 95 feet above Super Bowl fan village and held a giveaway contest for the Friday event.
Howard, a part-time driver who raced for David Letterman's team in the Indianapolis 500 this past season, had been soliciting responses from fans. Eventually he chose a winner, whose entry hit rather close to home.
Ed Smith, a 69-year-old who lives on the north side of Indianapolis, prepared a Letterman-esque top 10 list as to why he should win the tickets, a list that includes some of Smith's jaw-dropping death-evading experiences. In 1962, for instance, Smith was electrocuted on a live line standing in water and got struck by lightning on the same day. In 1967, he survived a typhoon in the South China Sea. In 1954, he stopped a high-speed revolving door with his head and got knocked out.
"He seems a bit accident prone," Howard said with a laugh. "He has broken his wrist, got 30-plus bee stings, stepped into a nest, one thing after another. All these things that happened to him, and he's saying that he really wants to go zip-lining.
"It's one of those things like, 'Should we even let him up there?' I might keep my distance from him, shake his hand, and make him stand a few feet away."
Howard himself will do the zip line ride on Feb. 3, wearing a GoPRo camera to record the experience, but he has been joking that Smith, who received both tickets so he can bring a friend, will serve as a guinea pig.
"I think I'm going to have to experiment in some thermal underwear, because I know it's going to be so cold," said Howard, a 49ers fan who reluctantly conceded he would root for the Giants in the Super Bowl. "Other than that? I'm just looking forward to seeing the video footage. I'll just have to try to remember not to scream, because it's going to be on video."