Welcome back to another edition of Page 2 Jeopardy!, the quiz that tests your knowledge of sports, pop culture and assorted trivia. Please remember to phrase your responses in the form of a question.
(Correct questions at the end of the quiz.)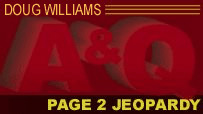 1. Answer He's a big hitter on the PGA Tour who's now playing with a driver with a hot-pink head and shaft as part of a commitment to charity.
2. Answer: Clippers point guard Chris Paul reportedly is set to spend $8.5 million for this pop star's 12,000-square foot L.A.-area mansion that includes a wine cellar, gym, 10-car garage and covered outdoor living room.
3. Answer: Plans for the 2012 Eastern League Home Run Derby to be hosted by this team will include extra points for hitting outfield targets and penalties for balls caught by mascots in the outfield.
4. Answer: This former UCLA women's soccer star who has dual citizenship (U.S. and Canada) recently was booed while playing for the United States in Vancouver by fans upset she chose to play for the Stars and Stripes instead of the Maple Leaf.
5.Answer: When this college point guard, known as "Day-Day," has at least five assists in a game, his team is undefeated with an average margin of victory of 28.6 points.
Question 1: Who is Bubba Watson ?
Question 2: Who is Avril Lavigne?
Question 3: Who are the Reading Phillies?
Question 4: Who is Sydney Leroux ?
Question 5: Who is Michigan State's Draymond Green?