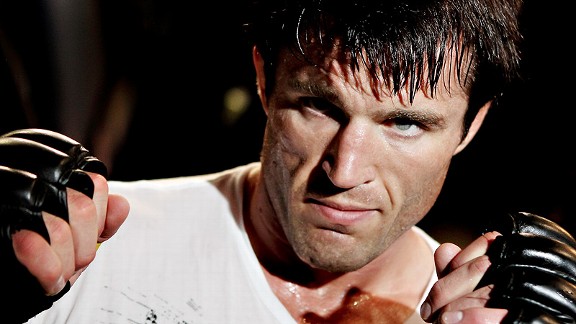 Ed Mulholland for ESPN.comOregon mixed martial artist Chael Sonnen follows no one ... and doesn't mince any words on Twitter.
UFC middleweight fighter Chael Sonnen is probably more recognized for his prefight antics than his 26-11-1 record inside the octagon. Sonnen's hostile creativity on the microphone is unique in a sport known more for clichéd trash talk than genuine animosity.
If you check out Sonnen on Twitter this Follow Friday (#FF), you'll experience much of the same. While many other athletes aim to defy media-driven stereotypes through social media, Sonnen is exactly the opposite. He literally follows no one, and he doesn't interact with fans. But he's himself -- brash, blunt and full of humorous opinions. Naturally, his lack of filter translates well on Twitter.
In honor of @sonnench, Page 2 presents five tips to improve your trash-talking skills:
• Stammering adds comedic effect
• Keep up to date with popular TV shows
• Use sincerity when addressing others
• Business can serve as the foundation of an insult
• Compare nicknames with similarly named products
@Sonnench, West Linn, Oregon