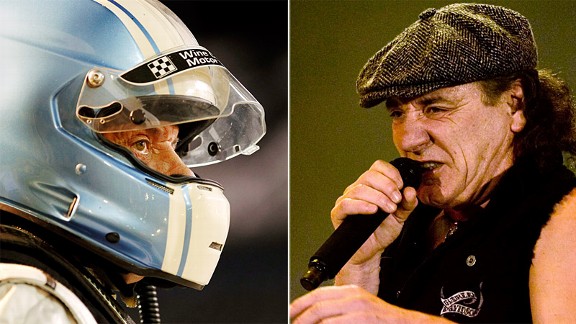 AP PhotosAC/DC lead singer Brian Johnson is living the dream as both a racer and a rock star.
DAYTONA BEACH, Fla. -- Brian Johnson is a typical red-blooded English/American male. He loves rock music, fancy cars and auto racing -- among other things. But Johnson, who became AC/DC's signature voice after the death of Bon Scott in 1980, is one of the most popular rock singers on the planet. He'll also be driving all night long as part of the 50+Predator/Alegra racing team during the 50th Anniversary of the Rolex 24 At Daytona Grand-Am race, beginning at 3:30 EST on Saturday.
Hard rock and fast cars offer him the perfect mix.
"It's a funny old world. It's a ying-yang world where all the sportsmen I meet want to be rock and roll singers, or in a rock and roll band, and all the musicians I know they want to drive cars," he said. "But there is something about driving a piece of machinery that is very quick and beyond your ability ... What you're doing is you're always checking the level of your cojones, if you know what I mean. It's one of those things where you scare yourself half to death. So the next time you do it, you're not nearly as scared. You just get more and more used to the speed."
The similarities extend beyond noise, power and adrenaline.
"The old saying is when the flag drops, the B.S. stops, and it's certainly true in racing and in music. With that size audience, this 24 Hours is right up there with the biggest gigs I've ever done. This is the ultimate for me," said Johnson. "It's the pinnacle of American racing -- right up there with the 500 at Indianapolis -- but this is road racing which has been my passion since I was a boy."
His team will be competing in the Daytona Prototype class. "Most people try to live the dream while they're alive. I think I've outlived the dream."