Park yourself right there and check out Page 2's All-Monument Team. We won't even charge admission, check your permits or trash your campsite.
Tommy Bridges: Thomas Jefferson Davis Bridges is a relatively unknown but impressive figure in baseball history, having earned his way into six All-Star Games in a 16-year career (1930-46). Likewise, Natural Bridges National Monument is a hidden gem. Located in Utah, it includes the second and third largest natural bridges in the world.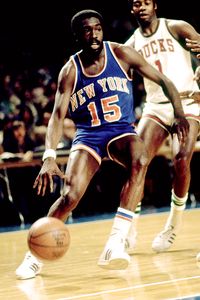 V. Biever/NBAE/Getty ImagesEarl Monroe's style of play helped transform the NBA game into an exhilarating art form.
Anthony McHenry: Fort McHenry was the site of a British bombing raid in the War of 1812 that inspired another national institution, the "Star-Spangled Banner." Francis Scott Key, a 35-year-old lawyer negotiating a POW swap with the Brits, was aboard one of Her Majesty's ships in September of 1814 when he saw an American flag emerge from the fort in Baltimore. He put pen to paper and gave generations of American sports fans a pregame ritual in the process. Our friend Anthony McHenry isn't quite as famous, but he did play about 18 minutes a game in helping the Georgia Tech basketball team make the NCAA championship game in 2004.
Earl Monroe: Fort Monroe is the newest national monument, having just been designated as such in November. It is one of the oldest places in the land, as Captain John Smith spent considerable time there in the early 1600s. And Earl "The Pearl," as any basketball historian knows, has been enshrined as an iconic figure in the game for decades.
John Newberry: Here's a guy who stamped his passport a fair amount. The center played pro hockey in six countries -- the Unted States, Canada, England, Sweden, Finland and Switzerland. He chased the dream enough to get into 22 NHL games and probably would have slept overnight in the Newberry Volcanic National Monument if he had needed to ply his trade in central Oregon. The monument is in the Deschutes National Forest.
Clinton Portis: The Broncos and Redskins running back turned the nearby Meadowlands into his own Castle Clinton, averaging 80 yards a game in nine contests at the Jets and Giants. As to the castle, it was built in 1811 to protect lower Manhattan from those nasty British, who weren't taking too well to this notion of the United States of America.