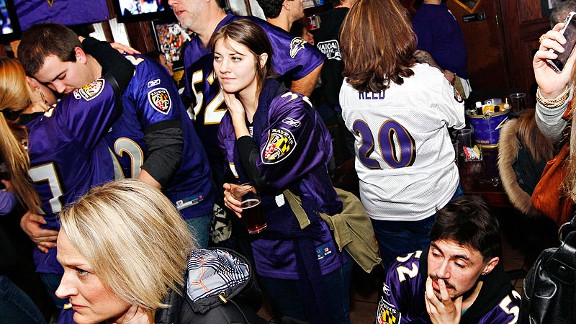 AP Photo/Patrick SemanskyBaltimore Ravens fans watch last Sunday's game against the New England Patriots.
The problem with destiny is that it's too subtle. Destiny tends to tap us on the shoulders when we need it to kick us in the shins and scream at us before it passes us by. Some fans of the New England Patriots and Baltimore Ravens ignored their destined chance at fame and fortune earlier in the week in a Fredericksburg (Va.) bar.
According to newspaper reports, the two opposing fan groups objected to each other's cherished point of view at around 2 in the morning after the Patriots had earlier punched their ticket to the Super Bowl by punching the Ravens. Objections escalated until someone from Group A threw someone from Group B through a bar window.
The argument ended in a tie, however, when someone from Group B evened the score by throwing someone from Group A threw another window. At least one arrest was made but, other than that, both groups may foolishly go on with their unchanged lives.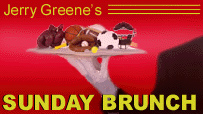 You know what we're thinking -- reality show! You start the season with a dozen groups of fans representing a dozen teams. You pair them off for the window-tossing competition. Rules will be created that award points both for tossing style and for how the tossed fan sticks the landing after crashing through the window.
Three judges: Paula Abdul, because why not? Chad Ochocinco 'cause he really needs the work. And, of course, Charles Barkley, who was arrested in 1997 for throwing a man through a bar window in Orlando at, yes, 2 a.m.
Don't thank me -- just send me my cut.
And while we're waiting for the TV money to begin flowing in, let's touch on this and that from the week that was before our literary superstar chefs present the real goodies from this post-Pro Bowl Brunch.
• This from Tom Brady after the AFC title game: "I sucked pretty bad today." Imagine if he had lost?