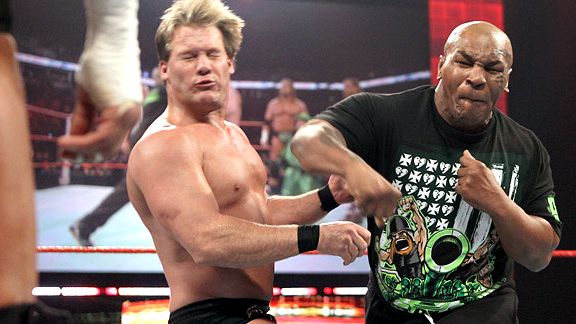 WWEMike Tyson joins non-wrestlers Drew Carey, Bob Eucker, "Fridge" Perry and Pete Rose in the Hall.
WWE announced on Monday that boxing legend Mike Tyson will be inducted into the WWE Hall of Fame on March 31 in Miami.
Tyson, who was WBC, WBA and IBF heavyweight champion, has a long history with WWE.
In 1998, after a confrontation with WWE Hall of Famer Stone Cold Steve Austin on "Monday Night Raw", Tyson was named special enforcer for the main event at WrestleMania XIV between Austin and Shawn Michaels. In that match, Tyson declared Austin the winner, and delivered a knockout punch to Michaels. In 2011, Tyson made his WWE return when he guest starred on "Monday Night Raw", teaming with Chris Jericho against Shawn Michaels and Triple H.
"I am honored to be inducted into the WWE Hall of Fame," said Tyson, who will join inductees Edge, The Four Horsemen, Mil Mascaras, among others this year. "I was the youngest heavyweight champion of all time, but the most fun I ever had in the ring was with WWE."