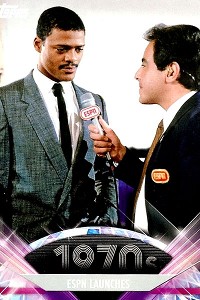 Courtesy of ToppsThis trading card shows the beginning of ESPN.
Don't call it a birthday card -- it's a trading card.
The launch of ESPN in 1979 is one of 200 memorable moments and people in American history highlighted on trading cards in a recently released set from Topps. It's a moment nestled alongside the likes of TV dinners, Pong, the launch of Twitter and even the deaths of Kurt Cobain, Steve Jobs and Michael Jackson.
Found on card No. 133 in the Topps American Pie set, ESPN's cardboard history recap reads like this: "Conceived by a television reporter in Massachusetts, Entertainment and Sports Programning Network ushered in a new era of 24-hour sports coverage in the fall of 1979. The channel debuted with an episode of 'SportsCenter' -- still its signature show -- hosted by Lee Leonard and George Grande. Up next: a professional slow-pitch softball game."
While the launch is a highlight of the 1970s (each card has a decade attached), the card's photo is from a bit later on. It shows a reporter interviewing former Buffalo Bills tight end Tony Hunter after he was drafted in 1983.
Oh, and what's it worth? About 40 cents.