All Regis Philbin wants is a shot to prove his sports journalism chops.
And he's got a little bit of TV experience, he jokes.
The 80-year-old, who signed off of his long-running daytime talk show back in November, says he would get back in front of a camera for the right opportunity. Talking about sports? Sign him up.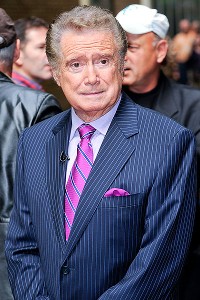 Ray Tamarra/Getty ImagesWhen a Fighting Irish superfan is smiling, the whole world smiles with Regis Philbin.
"I thought about for years doing something for ESPN, but they never called. They don't care," he deadpans.
But the longtime Patriots fan is eager to show off his football analysis skills.
"With things the way they are, with (Rob) Gronkowski hurt -- I'd be surprised if he comes back. And even if he does come back he's not gonna be as effective as he has all season," he says. "So they've got one big disadvantage there, and the Giants seem to have peaked.
"... That front four is gonna rush poor (Tom) Brady to death. You've got, (Eli) Manning at the peak of his career, he's got three great receivers racing downfield. I don't know how New England Patriots are gonna salvage this game."
The Notre Dame alum's pick, then?
"I'd like to see a close game. I just think the Giants are going to win. But I'm a Patriots fan too, so if they win it's OK with me. But the Giants got this one," Philbin says. "And I wanna tell you, by big points. I'm giving them two touchdowns and a field goal, 17 points they win this game by."
Philbin makes a big TV appearance in the Super Bowl on Sunday by way of a Pepsi Max commercial, where he plays a caricature of himself -- but he won't be in Indianapolis at all. He'll be in Florida at a resort with his wife Joy, and will watch the actual game with his buddy Donald Trump -- "a terrific fan and a pretty good athlete himself," according to Philbin.
"I always wind up watching the game with him," Philbin says.