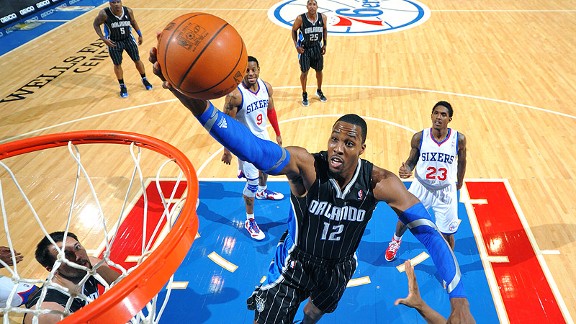 Jesse D. Garrabrant/NBAE/Getty ImagesDwight Howard wants out of Orlando, and Page 2 has uncovered some of Howard's unusual requests.
Dwight Howard now says he'd be open to playing for the Bulls.
Originally, Howard said the only teams he'd be interested in signing with were the Nets, Mavs and Lakers. He then recently added the Clippers into the mix and now Chicago. At this rate, here's how the rest of the season could shake out:
Feb. 3: "I'd totally be open to playing with the Washington Generals, but only if they got more competitive and started occasionally beating the Globetrotters."
Feb. 10: "I would love to take my services to Cleveland. I could see winning a championship paired with Omri Casspi."
Feb. 11: "The Hornets are looking really strong to me right now. Plus with David Stern as one of the owners, he could totally just make those ping-pong balls bounce our way in the lottery."
Feb. 16: "Forget Lob City! I'd be open to playing in Sacramento with Jimmer, then it'd be more like Lob Planet or Lob Universe!"
Feb. 26: "I'd be totally open to signing with the Eastern Conference All-Stars. This is the deepest team I've ever been on and I'd even accept less money to play with them."
That means all the Magic has to do is wait things out and eventually he'll add Orlando to his list.