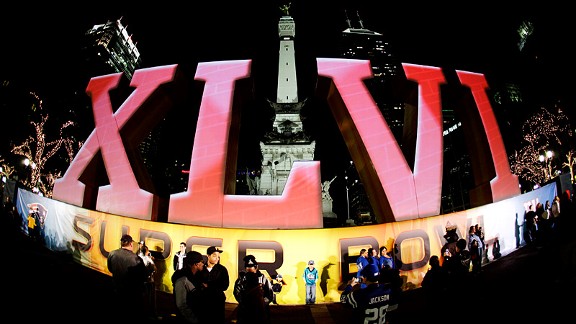 AP Photo/Matt Slocum
This year's Super Bowl takes us to Indianapolis -- known as The Racing Capital of the World, The Circle City, I-Town, The Crossroads of America and The Amateur Sports Capital of the World. Come February 5th, Indy will be known as the Party Capital of the World. This is, after all, the Super Bowl. Football fans will replace roadies and once again, Hollywood and athletes will collide at the party circuit. We'll be your crew chief every night, keeping tabs and ranking all of the top bashes leading up to game day.
Ladies and gentlemen, start your engines and let the celebration begin! Here's a look at the highlights of the course:
THURSDAY
EA Sports Madden Bowl
Location: The Bud Light Hotel (Hampton Inn Downtown)
The scene: For the last few years, the EA Sports Madden Bowl has served as the unofficial kickoff party for the weekend. Where else can you mingle freely with top NFL players, including Tim Tebow, Drew Brees, Arian Foster and Patrick Willis? If you're looking for ladies, you probably won't find a whole lot of them here. The party is usually a dude-fest -- but with video games, and a performance by The Roots and Nas, the frat house-feel is plenty of fun.
VH1 NFL Pepsi Fan Jam Concert
Location: Indiana State Fairgrounds
The scene: Fans can rock out to Adam Levine, Gym Class Heroes, All-American Rejects, Neon Hitch and B.o.B at the inaugural concert. The jam is sold out but if you didn't score a ticket? No worries! It airs live on VH1 at 9 p.m. Eastern.
Super Bowl Village Performances
Location: Indiana Convention Center
The scene: Most events over Super Bowl weekend require people to shell out quite a bit of dough. This is not one of them. The Super Bowl Village has free concerts each night. Thursday's performances take us back to the 90s with Darius Rucker, Edwin McCain and Sixpence None the Richer.
Laces Out Party
Location: The Vogue
The scene: Sasha Grey is that porn star turned into a TV star ("Entourage"), movie star (Steven Soderbergh's "The Girlfriend Experience") and DJ, who will be spinning some tunes at this Super Bowl bash. Colts punter Pat McAfee hosts the party alongside Grey.