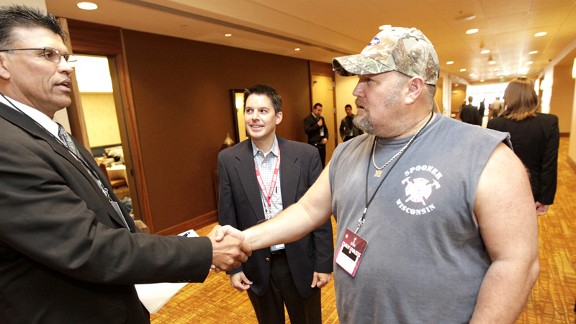 AP PhotoLarry the Cable Guy hangs out with Hall of Famer Anthony Munoz at Super Bowl week in Indianapolis.
INDIANAPOLIS -- Truth be told, Larry the Cable Guy couldn't care less who wins Sunday's Super Bowl.
His team -- the Green Bay Packers -- aren't in the mix, so his primary concern is what will be on his plate.
"I'm all about a bunch of people coming over the house, eat a lot of wings and drink a lot of beer," he chuckles. "And having pajama jeans on, because you're gonna fill them out pretty good."
Larry was in Indianapolis on Wednesday with Anthony Munoz to present the third annual Madden Most Valuable Protector's Award, which recognizes the best offensive line in the NFL. Larry also toasted the winners of the "Better Way to Tailgate Challenge." He spent much of the past few months visiting stadiums, then presented the tailgate winners trips to this year's Super Bowl.
So what's on Larry's Super Bowl menu? Wings, of course. And plenty of …
"Cole slaw. You gotta have cole slaw. If you don't have cole slaw, it ain't a real meal. That's something you never see served in fancy restaurants, though. You never go, what are the side items? Well, we have cole slaw … " he jokes. "That's one thing you'll never hear at a presidential dinner: 'Pass the slaw.'"
He'll be home watching the game. He's also readying himself for a stand-up comedy date in Canada next week.
And he'll be praying that this will be the last time in the foreseeable future his Packers aren't playing in the Super Bowl.
"The Packers are stacked. They're good. They're only gonna get better," Larry said. "So people better enjoy Super Bowl without them this year, because I think the Packers are gonna be in the Super Bowl the next five, six years."
Git r done.