Welcome back to another edition of Page 2 Jeopardy!, the quiz that tests your knowledge of sports, pop culture and assorted trivia. Please remember to phrase your responses in the form of a question.
(Correct questions at the end of the quiz.)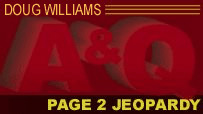 1. Answer: Director Danny Boyle says this event will be "an enormous bloody thing" that will include the ringing of a massive bell.
2. Answer: This major league outfielder, who played briefly in the Western Hockey League before deciding to focus on baseball, skated this week in practice with his hometown San Jose Sharks.
3. Answer: At 6-foot-10, this NBA player from Congo blocked 10 shots in a game this week and had 11 rebounds, but missed out on a triple double because he scored just four points.
4. Answer: This big-wave surfer, who's been filmed riding a 90-foot-high monster, has developed a customized wetsuit with an oxygen pocket that can allow him to breathe for several minutes if trapped beneath the water.
5. Answer: This former Florida Gators star from Miami, who's won a championship ring in the NBA, also has a tattoo of a map of Florida that covers most of his back.
Question 1: What are the Opening Ceremonies for the 2012 London Olympics?
Question 2: Who is Nyjer Morgan?
Question 3: Who is Oklahoma City's Serge Ibaka?
Question 4: Who is Garrett McNamara?
Question 5: Who is Udonis Haslem?