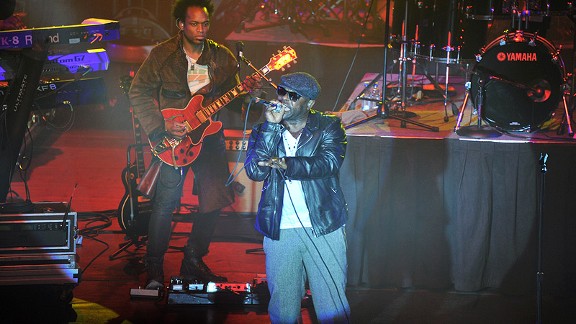 Stephen Lovekin/Getty ImagesThe Roots perform at Thursday's EA Sports Madden Bowl kickoff party at the Bud Light Hotel.
INDIANAPOLIS -- The party doesn't stop until Snoop says so.
On Thursday night, the Super Bowl festivities officially kicked off with the EA Madden Bowl soiree, an event that brought out top players, including Tim Tebow, Drew Brees and new Heisman Trophy winner Robert Griffin III.
Just when we thought they'd flash the lights and tell us all we ain't got to go home, but we have to get out of here … Snoop Dogg surprised us all and took the stage. Folks were floored and took to the floor while Snoop and his band, a furry mascot and backup dancers whirled through a medley of Snoop Dogg favorites, most dating back almost 20 years. He was the third act to take the stage that night -- on the bill were The Roots and Nas. And we were fine with that, trust us. But the added bonus of the Snoop encore was amazing.
EA Madden Bowl
Why that title: For years the video game manufacturing company has hosted the tournament that pits real-life players against one another playing as their virtual selves. The winners this year were Tebow, Brees and Jimmy Graham.
Where: Bud Light Hotel in downtown Indianapolis.
Performers: The Roots, Nas and Snoop Dogg.
Celebrities we saw: Donovan McNabb, Michael Irvin, Tebow, Brees and Eddie George.
Celebrities who were confirmed, but we didn't spot: Pretty much everyone on the tip sheet showed up. Many of the league's top players were in attendance -- we could have had a football playoff there with all of the top names circling around.
Overheard: "Who are The Roots? Are they a band? Are they any good? What kind of music do they make?" asked a New England Patriots fan who was in town from New Jersey.
Food factor: The best of the passed-around food was the margarita shrimp. Hands down. Other things that people noshed on: artichoke baby quiche, chicken strips and other usual party finger food flair.
Race car rating: Victory Lap -- if this is what we have to look forward to the rest of the week, we may never go home.