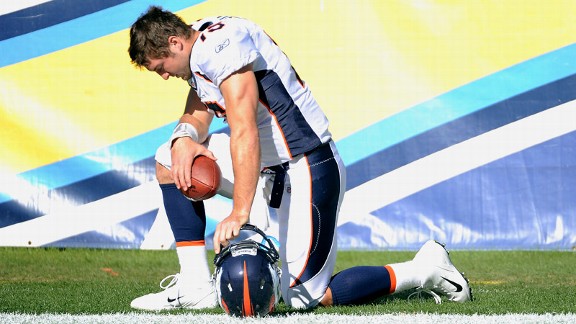 Harry How/Getty ImagesCan Tebowing help defeat the dreaded Madden Curse?
For the second straight season, the "Madden" cover (and curse) will be decided by fans.
Thanks to a partnership between ESPN and EA Sports, a partnership that saw over 13 million people vote for the cover just last year, fans will once again let their voices be heard on who they want to see grace the cover of EA's billion-dollar franchise.
Voting is set to kickoff March 7, and this year, the field has been expanded to 64 players, as the first round will pit teammate against teammate to see who can win their way in to the final field of 32.
Last season, Peyton Hillis pulled off the huge upset, collecting more votes than more established superstars like Aaron Rodgers and Michael Vick to earn his spot on the cover. Unfortunately for Hillis, just like so many men who have posed for the cover before him (Shaun Alexander, Daunte Culpepper, Michael Vick), his production (and health) suffered almost immediately thanks to what gamers and sports fans alike refer to as "The Madden Curse."
Hillis himself even seemed to blame the game for his poor performance, saying late in the season: "Things didn't work in my favor this year. There's a few things that happened this year that made me believe in curses. Ain't no doubt about it."
• Click here to read the rest of the story at The Gamer blog.