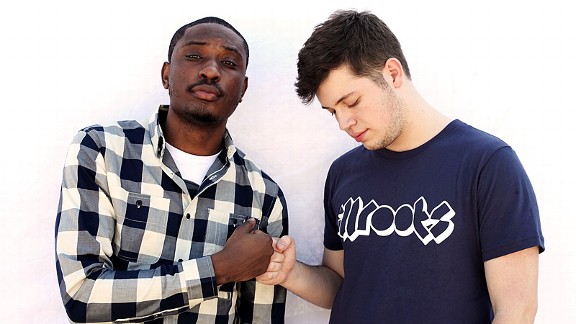 Roger Kisby/Getty ImagesChidera Anamage and Noah Beresin of Chiddy Bang are huge sports fans who met at Drexel.
Chidera Anamege, also known as "Chiddy" from the hip-hop duo Chiddy Bang, knows his sports. He grew up following and watching basketball, playing for his high-school team.
There's no NFL team Chiddy calls his own, but he supports the New England Patriots because he went to boarding school in Boston for two years and knew Bill Belichick's son through a friend. That's why he dropped a Patriots freestyle over Chiddy Bang's single, "Ray Charles," last week.
After rhyming about the skills of Belichick, Tom Brady and Rob Gronkowski, Chiddy finishes the freestyle with: "That goes without a question, we're about to get that revenge for 2007/Yeah, and the truth is cold, Indianapolis, the Pats got the Super Bowl."
"I want to see the Pats do it because I feel like everybody hates on the Pats," said Chiddy, whose group's album, Breakfast, releases Feb. 28. "Spending time in Boston I saw Patriots pride at its peak."
• Click here to hear the song and read the rest of the story at ESPN Music.