WWE superstar Ted DiBiase may do phone interviews while 25 feet up in a deer stand, but don't let that fool you. While he enjoys the simple life -- like hunting or a good tailgate -- he's savvy enough to use social media to build his career and his fans' enjoyment of the show at the same time.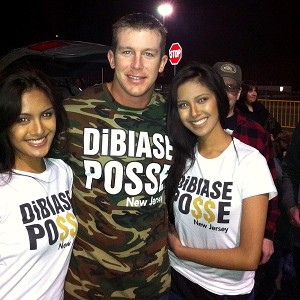 Courtesy of Ted Dibiase WWE's Ted DiBiase, son of the "Million Dollar Man", is a pro wrestler using Twitter to get fans hyped.
DiBiase, the 29-year-old son of his "Million Dollar Man" father/namesake, is the creator of the DiBiase "Posse Party," an impromptu Twitter-fueled get-together with tailgating fans outside the arena at "live" (non-televised) events. The inaugural event was late last summer in his hometown of Jackson, Miss. Last weekend, DiBiase stepped up his game, hosting the biggest Posse Party yet Sunday prior to the "Royal Rumble" pay-per-view event.
DiBiase uses Twitter to let his more than 220,000 Twitter followers know where to go. Since last summer, DiBiase has hosted more than 100 fans outside some shows, and even ran a half-mile in the rain to connect with six fans at a Buffalo Wild Wings.
"Instead of sitting in line for an autograph and getting a handshake and that's it, I sit around, I tell stories, and they ask questions," said DiBiase, who was able to entertain fans at the Royal Rumble despite being temporarily out of action with a wrist injury. "It's just like my sitting around with my buddies on the back porch cooking steaks."
The only downside has been the Domino's Pizza and sweets to challenge his six-pack frame. But he thinks the career advantage is far more valuable.
In past pro wrestling circles, competitors could only wait until a member of the creative team tapped them to be a main event performer. But in today's social-media age, enterprising grapplers can more likely write their own ticket. Long Island native Zack Ryder went from also-ran to all-star thanks to his "Z! True Long Island Story" YouTube series, and DiBiase, armed with his Twitter invites, seems to be the next in line.
"It's just starting to catch on; it was just kind of a slow build, and hopefully it continues to catch on. I wonder if I could have the biggest international tailgate party ever at WrestleMania," said DiBiase of WWE's defining show on April 1 in Miami. "I bet we could set some kind of Guinness World Record."