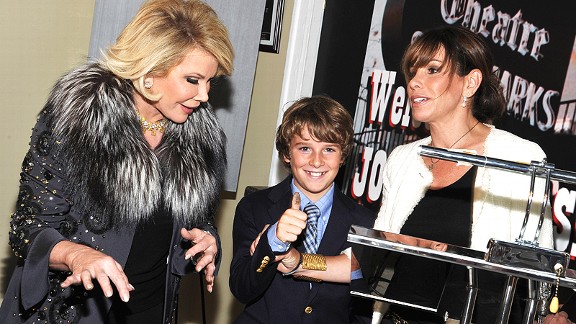 Mike Coppola/Getty ImagesMelissa Rivers and her son, Cooper Endicott, are missing his game to be in Indy for the Super Bowl.
Melissa Rivers, daughter of legendary comedian Joan Rivers, is defensive coordinator of her son's flag football team.
We're not joking.
"With me coaching, I led them to a championship last year," said Rivers, who is a producer and actress in Los Angeles. "And, listen to this, in three games, the defense outscored the offense."
On Saturday, Rivers, along with her son, Cooper Endicott, are missing a game in California just to be in Indianapolis for Sunday's Super Bowl.
Rivers is hoping the team remembers her plays.
"We play a modified zone and have a number of secret plays. One is called 'Your shoes are untied' and the other is called 'Special G Money,'" Rivers said. "There is going to be a lot of drama out there, and we're going to be missing it."
But Rivers wanted to make the trip to root for her New York Giants.
"I grew up watching football with my dad, and I have so much love for the Mannings," Rivers said. "Listen, Tom Brady is a good-looking guy and an unbelievable athlete, but I'm pulling for Eli Manning."
Here are a few more stars making picks:
Actor Kellan Lutz: "The Patriots. Gisele [Bundchen] wrote that email, and that's been getting a lot of flak. For what reason? What she did was really endearing and sweet. For a wife to write those words of inspiration and ask her friends and family to say a prayer, and I'm religious, I think it's really sweet."
Actor Neil Patrick Harris: "I don't have a pick. I just haven't been able to commit the time. I dropped out of my father's fantasy football league a couple years ago, so that eliminates a lot of micromanaging and, in turn, my weekends are my free time and I usually spend it with my family instead of the TV. They're not allowed to watch screens until they're 2."
Actor David Arquette: "I want the Giants to win because I know the Mara family, the Tisch family and I love New York. I like the team a lot. L.A. doesn't have a football team so New York is my second home."
Talk-show host Jerry Springer: "I'm rooting for the Giants. I can see how the Patriots have a chance but my heart is with New York."