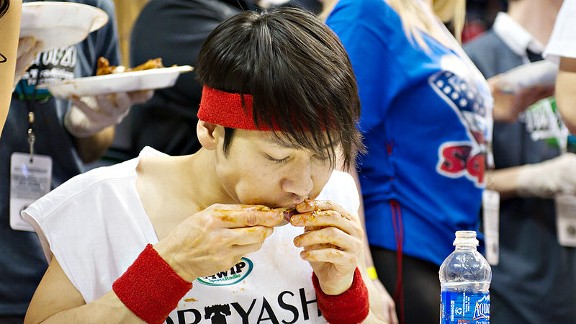 Gilbert Carrasquillo/Getty ImagesKobayashi won Wing Bowl 20 in Philadelphia on Friday, breaking the record by eating 337 wings.
You probably think everything important in American sports this past week happened in Indianapolis. Wrong, football breath. How could you forget one of our growing traditions, the 20th annual Wing Bowl in Philadelphia that attracted 20,000 sports fans eager to see thousand of chickens rendered wingless -- along with nearly naked women mud wrestling.
The hero was famed Kobayashi who knocked down 337 chicken wings in 30 minutes (a little more than 11 wings a minute for the mathematically challenged).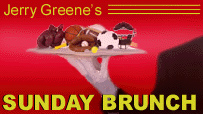 It all reminds me of a visit years ago to the now defunct World's Chicken Plucking Championships that were held every October in little Spring Hill, Fla. Why this event is lost in history is puzzling. It included a guy who tried to jump a one-mile wide lake on his motor bike and only fell short by all but the first 10 feet of the mile. Then there was the somewhat controversial Ms. Drumstick beauty contest that was judge purely on the contestants' shapely legs. To guarantee objectivity about the, um, drumsticks, all the contestants wore burlap bags over the rest of their bodies.
The highlight, of course, was the chicken plucking. You haven't seen anything until you see the feathers and blood start to fly. They always assured everyone that the chickens had been "put to sleep humanely" before being plucked. The chickens must have been grateful for that.
The closing was my favorite, however. A male-and-female choir dressed in tuxedoes or formal dresses would perform the William Tell Overture -- by clucking it.
That's entertainment.
There will be entertainment galore when we get to the main dishes in the Super Sunday Brunch but first a few bits of tid, mostly about that Big Game in Indy.
• Not sure if anyone has mentioned this about the Super Bowl but it's possible that the health of New England tight end Ron Gronkowski may be important. You heard it here first.