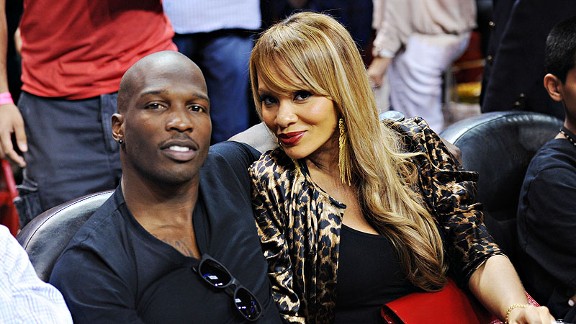 Uri Schanker/Getty ImagesEvelyn Lozada is here to support her fiancée Chad Ochocinco, talk about her book and her show.
INDIANAPOLIS -- Evelyn Lozada understands the irony.
She is the talk of the reality TV world and is on a show that's called "Basketball Wives," yet she's on the arm of New England Patriots wide receiver Chad Ochocinco, who's about to play in the Super Bowl game Sunday.
She's still on the show, given that she's the ex-fiancée of former NBA player Antoine Walker, and well, that's where we first met the shoot-it-from-the-hip fiery Miami shoe shop owner. But when her VH1 reality show premieres its fourth season later this month (Feb. 20), we'll see her fine-tuning the details of her summer wedding to the football star. (And possibly getting into a few scuffs with her fellow castmates along the way.)
This weekend, Lozada is in Indianapolis cheering on her honey and hopes to watch him collect a championship victory. She talks with Page 2 about the wedding (she's being tight-lipped on much of the details), her forthcoming fictional book series about being a basketball wife (the stories come from real experiences) and the big game on Sunday (she's hoping her guy has a lot of playing time).
Does Chad get to have a say in the wedding?
"What he would like to be in control of is probably the music. He's very in tune with music. I mean, if you looked at his iTunes library, you would be surprised as to what he has in there. I think that's definitely something that's important to him. Other than that, he could care less. He's like, 'I'm going to make sure I'm there.'"
You've had to switch gears and become a football wife. Any major differences you've noticed in lifestyle because of that?
"I don't really think there's much of a difference other than his season is way shorter than basketball. And they have curfews. And we can't stay at the same hotels. Oh, and we're freezing sitting outside!"
Were you a football fan before you and Chad started dating?
"No, absolutely not. I'm not one of those people that know the call. I didn't have a clue before this. But I learned a lot, because Lord knows, not only watching his games, but he watches every game, so I'm forced to watch it now. And I actually enjoy it."
Do you have a pregame ritual?
"Before every game I make him two boiled eggs with peaches and cream oatmeal. That's what he wants to eat. He's just, he's a very simple guy. Aside from his IHOP addiction, that's what he would like to eat before the game."
You have a book coming out, about your life as a basketball wife?
"Yes! It's going to be released June 5; it's a series of three books. The first book is called "The Inner Circle," and it's primarily based on my life, friends that have been in the limelight and have been married and engaged and girlfriend of players. It's a lot of these stories in these books, but obviously with fictitious names. You would never know what situation was Evelyn's situation. A lot of it is real, true stories."