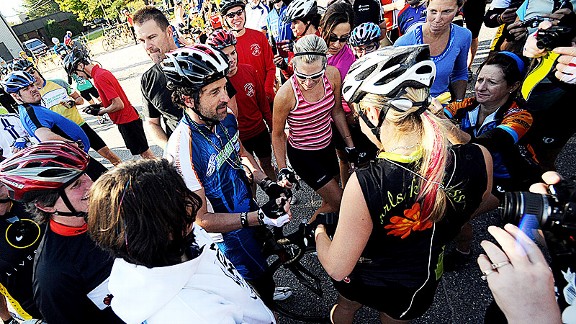 AP Photo/The Lewiston Sun-Journal/Amber WatermanPatrick Dempsey talks with fellow cyclists during the Dempsey Challenge charity fundraiser in Maine.
Which celebrity would cyclists most like to ride with?
According to a Bicycling magazine poll of more than 5,000 readers, it's Gisele Bundchen. Of course, some hardcore Patriots fans may disagree, though I'm sure even they would excuse/endorse her comments about New England's receivers if she were wearing spandex bike shorts.
At least, Gisele is the person whom male readers chose from a list of eight celebs noted for their interest in cycling. Women picked Patrick Dempsey, aka, Dr. McDreamy on "Gray's Anatomy," a passionate cyclist who holds an annual charity ride. Gisele finished last among women voters, while Tom Brady was next-to-last. The quarterback ranked fourth among male voters.
The runners-up for the men in order were: actor (and Lance Armstrong pal) Matthew McConaughey, Talking Heads musician (and author of "Bicycle Diaries") David Byrne, Brady, Dempsey, Madonna, actor Jake Gyllenhaal and actor Orlando Bloom. The runners-up among women were: McConaughey, Gyllenhaal, Byrne, Bloom, Madonna, Brady and Gisele.
Among other interesting tidbits from the poll: 50 percent of men cyclists and 58 percent of women would rather give up sex for a month than cycling for a month. (Again, the numbers might change if they were allowed to ride with Gisele and McDreamy, respectively.) Also, 64 percent of women said they give a thumbs up to men who shave their legs (I hope my wife doesn't see this).
Finally, while 79 percent of the respondents say they ride to stay healthy and 76 percent say they also ride for fun (you could pick more than one reason), 46 percent say they ride to look better. Hey, that last benefit is important if you're hoping to snag a ride with Gisele or McDreamy.