Soccer legend and L.A. Galaxy Midfielder David Beckham graces the cover of the March issue of Men's Health and opens up about staying at the top of his game as he gets older and the importance of family and friends: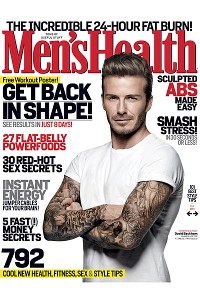 Men's Health MagazineDavid Beckham is on the cover of the March issue of Men's Health.
David on getting older …
"Even at 36, I'm still running 12 miles a game. [But] I've definitely become more aware on the field. I know what my limits are, what I can achieve, and which passes I can play. I have adapted to my age."
David on the importance of family and friends …
"I've got friends at the different teams I've played for, but family is the most important thing to me. That will always be the case. I've got my wife. I've got my four kids. I've got parents, grandparents still, and three really good friends. It's all you need. I'd rather have three really good friends than 20 good friends."
David on how stubbornness has helped his career …
"I am a very stubborn person. I think it's helped me over my career. I'm sure it has hindered me at times as well, but not too many times. I know that if I set my mind to something, even if people are saying I can't do it, I will achieve it."
David on fatherhood …
"It would be easy for our kids to sit back and not work for anything, but they're not like that. They're as competitive as Victoria and me. We're very lucky with our boys: They want to win. They want to work at something. They know their values. That's the way we've brought them up so far, and that's the way we'll continue to bring them up."
To read the rest, check it out here.