Less than a week ago, New York Knicks point guard Jeremy Lin was an afterthought in the basketball card market.
Worse. He was a throw-in.
Two star-making performances later, and the Bay Area-bred, Harvard-educated second-year player is soaring. His value is, at least.
After scoring 25 points in a 99-92 Knicks win over the Nets on Saturday, Lin's rookie cards shot up in value on eBay. Two days later, Lin dropped 28 points and 8 assists in a win over the Jazz, and a perfect storm of collectibility began to brew.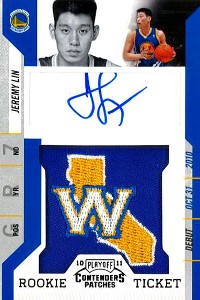 Panini AmericaThis Jeremy Lin autographed rookie card by Panini, which sold online for $3.24 on Dec. 27, fetched $71 on Wednesday.
Scorching-hot player? Check.
Undervalued rookie cards? Check.
The world's biggest sports market? Check.
Hundreds of millions of fans in Asia who have been waiting for a breakout NBA star for a decade, since Yao Ming's debut? One massive check.
Consider: From late December to the day before his first scoring explosion, Lin's highest selling 2010-11 rookie card went for $40, on Jan. 10, a day after he played zero minutes in New York's win over Charlotte. Most of his cards, even ones featuring autographs and swatches of game-worn jersey, were selling in the $3-$10 range, with nary a blip.
But in roughly two hours, Lin's cards doubled, tripled, quadrupled in price.
Around 8:30 p.m. ET on Saturday, the first eBay buy-it-nows started to pop, one by one, with some savvy collector/investor getting on the Lin Express. At 8:40 p.m., someone bought Lin's best base rookie card -- a 2010-11 Panini National Treasures Autographed Jersey rookie card limited to 99 -- for $29.99.
The same card sold on Tuesday night for $299.99. A much rarer Lin rookie card -- a Panini Timeless Treasures Autograph card limited to just one copy -- sold for $625.
Jeremy has spoken, and as long as he keeps up his hot hand, collectors will continue to clamor.