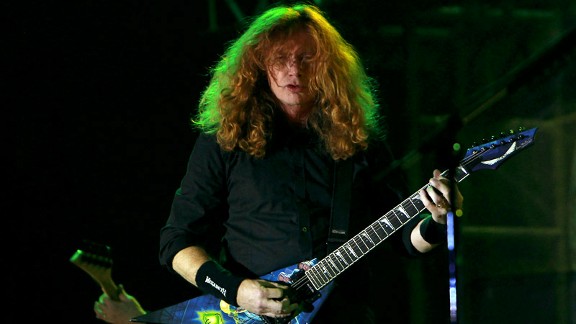 AP Photo/Juan KaritaMegadeth's Dave Mustaine has to keep the head-banging to a minimum after neck surgery.
As Super Bowl week media coverage built to a fever pitch, some breaking news finally answered the question that beleaguered Indianapolis all season: Peyton Manning had been medically cleared to play.
Dave Mustaine, the frontman for heavy metal group Megadeth, understands the Indianapolis quarterback's prolonged recovery from a cervical neck fusion. Mustaine underwent the same procedure from the same surgeon who operated on Manning, Dr. Robert Watkins.
Uncertainty about the future after a potentially career-ending injury is a mind game, Mustaine says, for both an MVP quarterback and a heavy-metal guitar hero. "There's that self-doubt. What am I going to do -- what can I do?"
Mustaine's own chronic pain was caused by stenosis, the result of decades of onstage head-banging. Mustaine tried to cope with the pain for nearly 10 years through acupuncture, yoga, trigger point injections, and both narcotic and non-narcotic medication.
"It got to the point where I just didn't want to live like this anymore," he said
The breaking point came just days before the historic Big 4 show -- Metallica, Slayer, Megadeth and Anthrax -- at Yankee Stadium last September. Mustaine's son found him crawling on the floor in debilitating pain, hand elevated in a desperate attempt for relief.
Mustaine, with the help of some doctor-prescribed steroids, powered through the show but knew it was time to address the injury.