Last week, Thunder center Kendrick Perkins was on the wrong end of the dunk of the year by Clippers forward Blake Griffin. It was an embarrassing moment for Perkins, and he isn't happy in particular with how Heat forward LeBron James reacted on Twitter to the violent jam.
"Dunk of the Year! @blakegriffin just dunked on Kendrick Perkins so hard!!! Wow! I guess I'm No. 2 now. Move over #6," James tweeted on Jan. 31 after Griffin posterized Perkins.
However, James told ESPN.com's Heat Index that he doesn't plan on apologizing. "I don't think I was the only one to react to the unbelievable play by Blake and that's what it was all about," James said.
LeBron is right. There was not one, not two, not three, not four, not five, not six, not seven ... let's just say there were an awful lot of NBA players who tweeted about Griffin's jam. If James is expected to apologize, then Perkins should probably seek out every one of those players. Since Page 2 believes in community service, we've done the dirty work and compiled the list for Perkins.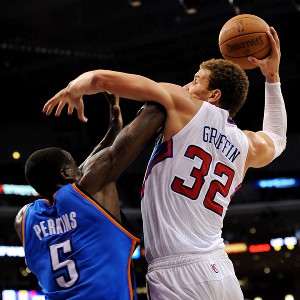 Noah Graham/NBAE/Getty ImagesIt's the dunk heard 'round the social media world: Blake Griffin throwing down over Kendrick Perkins.
• Dirk Nowitzki: Watched blakes dunk over and over again. Almost makes me wonder if me and him even play the same sport. What an athlete
• Chris Paul: WoW!!! Just saw @blakegriffin dunk from 2nite...WHAT IN THE WORLD!!! Something is wrong with that guy...#GladHeIsOnMyTeam
• Stephen Curry: ...................REWIND..................
• DeMarcus Cousins: Blake Griffin ...smh!!!
• Eric Gordon: That's was nasty by blake griffin... Damn
• Tony Allen: Everybody talkn about blake dunk!!
• T.J. Ford: Lots of guys getn posterize this week BGriffin WOW!!!
• Rudy Fernandez: wooooowwwwwwwww u see the dunk from Blake Griffin?? NO PUEDE SER VERDAD........
• C.J. Miles: Blake Griffin = Captain Planet
• DeMar DeRozan: OMG @blakegriffin!!!!!
• Rasual Butler: @blakegriffin Dunk was better then the one Last year against the knicks The one tonight Wow!!!!!!!! Nasty! I know clipper Daryl Loved it!
• Courtney Lee: @blakegiffin dunk of year? Yuuuupp(trey Songz voice)
• Marcus Thornton: Just seeing this Blake griffin dunk LAWD
• Dorell Wright: OMG!!
• Al Thornton: Got damn Blake!!!! Perkins career is over with!!! Whoaaaaaaa.
• DaJuan Summers: We clearly have just seen the dunk of the year...WOW
• Damien Wilkins: Just landed in new york. I see Blake Griffin was clownin tonight!!
• Omri Casspi: Wow what a dunk by Blake
• Amir Johnson: Perk jus need to sit down for the rest of the game..smh
• Matt Carroll: Who just saw @blakegriffin smash on K. Perkins head?!?!?!? Wow!!!
• Kevin Love: @blakegriffin I hope you told Kendrick Perkins to shut up about the mantra!!!