Welcome back to another edition of Page 2 Jeopardy!, the quiz that tests your knowledge of sports, pop culture and assorted trivia. Please remember to phrase your responses in the form of a question.
(Correct questions at the end of the quiz.)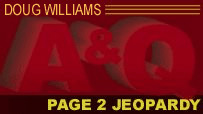 1. Answer: By spending $2,500 to rent a game suite at a Wizards game, a fan will also get $500 worth of food and drinks for his friends, plus team hats and a visit from this former player.
2. Answer: Just days after this animal ran on the field to disrupt a Premier League soccer match between Tottenham and Liverpool, a Twitter account set up in his honor had more than 33,000 followers.
3. Answer: His father, a former NBA star, says of this 6-foot-9 son who's becoming a Pac-12 standout: "I've said all along, he has a lot of me inside of him."
4. Answer: This 27-year-old PGA Tour player, who has made nearly $500,000 in 2012 and had six top-10 finishes in 2011, says he doesn't have a cell phone and hasn't checked his email "in about eight years."
5. Answer: After retiring, this former big-leaguer -- who hit .306 over a 13-year career and played on a World Series winner -- earned his MBA from Stanford and is now pro scouting director for a big-league team.
Question 1: Who is Gheorge Muresan?
Question 2: Who is "the Anfield Cat"?
Question 3: Who is Shawn Kemp Jr.
Question 4: Who is Spencer Levin?
Question 5: Who is Hal Morris?