Warning: If a female luger from Tonga named Victoria Seacrett competes in the 2014 Olympics, be suspicious. Why? Read on.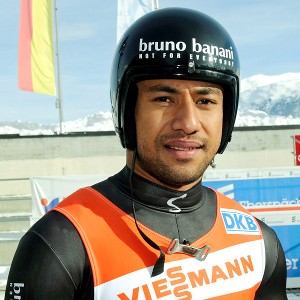 AP Photo/Keystone/Karl MathisTongan luger Bruno Banani is attempting to become Tonga's first winter Olympian.
Bruno Banani is scheduled to represent Tonga at this weekend's world luge championship in Altenberg, Germany, hoping to continue his path toward becoming the South Pacific island nation's first winter Olympian in 2014. By the most amazing coincidence, Bruno Banani also happens to be the name of the German underwear company sponsoring him.
The Bruno Banani company's website has a page prominently devoted to the luger, with a video link headlined: "Meet the Real Bruno Banani.'' The video begins with the luger saying, "I am Bruno Banani, and I'm from Tonga.'' It then shows clips of him sliding down a luge track, posing with lingerie models and climbing a coconut tree (his marketing slogan is "coconut powered''). He also has a Facebook page.
There is just one problem. It turns out that in a most non-amazing non-coincidence, Bruno Banani is not the luger's real name. Or, at least, not his given name.
The German magazine Der Spiegel reported last week that while Banani is from Tonga as advertised, his real name is Fuahea Semi. The German marketing firm Makai paid him to change his name and managed to get a Tongan passport issued in the Banani name. The Vancouver Sun also reported in December that Banani had changed his name.