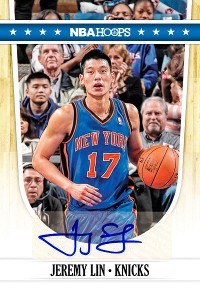 Courtesy of Panini America Jeremy Lin finally has a trading card and it arrives Feb. 29.
With all the buzz about Jeremy Lin and the skyrocketing sales of his basketball cards, many a Knicks fan and collector have dealt with one reality in the last week.
He doesn't yet have a Knicks basketball card.
But all that changes on Feb. 29 with the arrival of the 2011-12 NBA Hoops set from Panini America.
It will be the home of his first trading cards showing him in a New York uniform -- and it will include the first autographed cards of him as a Knick, too, according to the company, which unveiled the cards on Monday.
Hoops packs will be just 99 cents apiece, while packs found at hobby shops will guarantee a chance at two autographed cards in every box.
Hoops is the first release of the season from Panini America, the lone NBA card licensee.