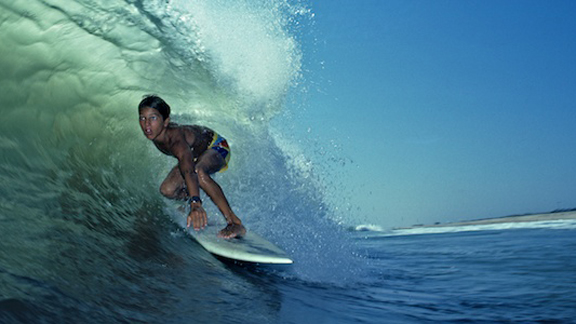 Mez/ESMKelly Slater showing barrel riding knowledge from the start.
Kelly Slater recently turned 40. Despite our shifting baselines, yoga routines and soy burgers, 40 is old to be an elite competitor in any sport, much less one as acrobatic as waveriding. Yet Slater is as young as ever, and after his 11th world title, he is still way ahead of the game. He's a freak for sure, but surfing enjoys where it is today because of him. Since Slater is into factoids, we thought we'd honor his life as a timeline of important dates and events.
Feb. 11, 1972: Robert Kelly Slater is born. Australia's Paul Neilsen wins the Smirnoff World Pro-Am, becoming the highest-rated "professional" of the year. One of the first surf documentaries, "Five Summer Stories," starring Gerry Lopez, is released.

July 4, 1976: Peter "PT" Townend becomes the first "world champion" by winning the IPS world circuit. Shaun Tomson (at Backdoor) appears on the cover of that month's issue of Surfer magazine. The United States celebrates its 200-year birthday. Little Slater loses a tooth.

1979: Mark Richards wins the first of four consecutive titles, setting the bar for greatness in surfing.

1981: Simon Anderson makes the thruster legitimate. It will serve as Slater's sword until he's middle-aged.

• Click here to read the entire story from ESPN Action Sports