Bettors have gone Linsane.
A week ago, Knicks guard Jeremy Lin wasn't listed as a possibility to win the 2011-12 NBA MVP award. This past Sunday, Lin opened at 100:1 odds.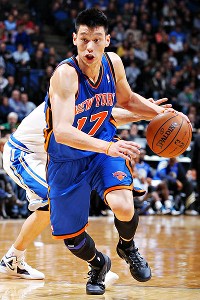 David Sherman/NBAE/GettyIs it ridiculous to talk up Jeremy Lin as an NBA MVP candidate?
On Wednesday morning, following Lin's winning 3-pointer in Toronto, which extended New York's winning streak to six games, Lin sits at 25:1 at Sportsbook.com.
Sportsbook.com publicist Mike Pierce said wagers have flooded in backing Lin. "And I thought we were going to have a very slow sports month until March Madness," Pierce said. Sportsbook.com reports $20K in wagers on Lin to be named MVP, with bets being placed at 100:1, 75:1, 50:1 and 25:1.
While overreaction to a public phenomenon is common, Lin continues to silence critics with each game.
Interestingly enough, Knicks forward Carmelo Anthony is also listed at 25:1. Needless to say, Anthony hasn't garnered nearly as much attention as New York's newest hero. Only $5,000 in wagers at Sportsbook.com have been placed on Carmelo to win MVP.
Lin is being portrayed as the ultimate good guy, so maybe it's fitting that he'll have to conquer LeBron James, perceived by many as one of the biggest villains in sports, to win the award. James is set as a 3:2 favorite to win MVP.