Brittney Palmer, best known as a personality and ring card model for Ultimate Fighting Championship, is gracing the cover of the March issue of Playboy magazine, available starting Friday. Born in San Diego, the 24-year-old Palmer moved to Las Vegas and rose through the entertainment industry. Now she's back in California in school, and Page 2 chased her down to talk about the issue.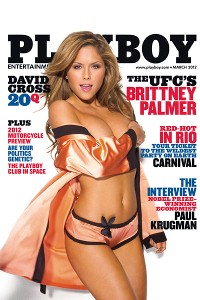 Courtesy of PlayboyModel Brittney Palmer is the third UFC ring girl to appear on the cover of Playboy.
Being a ring girl for the UFC, did you think it could lead to something like this?
"I never really thought about it because I didn't expect this to happen! I was so happy being a part of something so incredible with the UFC that I didn't expect lightning to strike twice! Being on the cover of Playboy puts me in pretty elite company, and I'm excited for the opportunity."
Were you nervous during the photo shoot and how much exercising did you do beforehand?
"I'm constantly exercising to stay in fighting shape for all of the UFC events, so that really didn't change. I've never posed nude before, so I was a little apprehensive at first. But the Playboy crew on the shoot was so great and supportive, and they made me feel very comfortable on set."
You're the third UFC ring girl to make a cover. Did you talk to Arianny Celeste or Rachelle Leah about it beforehand?
"I'm really close with Arianny, and we're together all the time with all the travel for the UFC. She was very supportive and told me what to expect. After I shot, we compared notes and had a good time rehashing our shoots!"
I hear you're an artist also and your work is on your website. Really?
"I love to paint! I've been interested in art for as long as I can remember, and I started taking painting seriously over a year ago. I decided to enroll in art school, so I picked up and moved to Los Angeles last summer. It's been really exciting learning all the different techniques that I never knew. I like to paint acrylic on canvas portraits of rock and pop icons from the 1960s and 1970s, and it's been exciting to see how the detail and depth of my paintings has grown since I've been in school."
What's next for you?
"I'll be staying in art school for the foreseeable future, and hopefully people will continue to show interest in my artwork. I'm heading to Brazil twice in the next month to film The Ultimate Fighter Brazil, and then I'm looking forward to doing more of the same: working in my art studio painting, continuing to design and be creative, and continuing to make these fun workout videos for Gamma Labs PTF. UFC has opened up many doors for me, and I'm sure gracing the cover of Playboy will do the same. I'm looking forward to seeing what's around the next corner!"