Welcome back to another edition of Page 2 Jeopardy!, the quiz that tests your knowledge of sports, pop culture and assorted trivia. Please remember to phrase your responses in the form of a question.
(Correct questions at the end of the quiz.)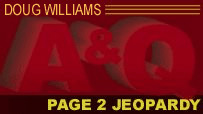 1. Answer: This 30-year-old champion boxer, whose punching power has been compared to Mike Tyson's, had a rough youth and says his greatest achievement is, "I'm not dead and I'm not in prison."
2. Answer Long before "Linsanity" hit the NBA in 2012, this athletic, 6-foot-4 guard became a national sensation after being acquired by Portland's Trail Blazers from the CBA late in the 1979-80 season.
3. Answer: This long-range shooter won the 1989 NBA three-point contest after Larry Bird had won the first three (1986-88) and Craig Hodges won the next three (1990-92).
4. Answer: This veteran cornerback made 101 tackles in 2011, but missed a league-high 22 at his position -- or one for every 4.6 attempted -- according to a study done by Pro Football Focus.
5. Answer: Actress Angie Harmon, who stars in the TV series "Rizzoli & Isles," has been married to this former NFL cornerback since 2001.
Question 1: Who is Tavoris Cloud?
Question 2: Who is Billy Ray Bates?
Question 3: Who is Dale Ellis?
Question 4: Who is Ronde Barber?
Question 5: Who is Jason Sehorn?