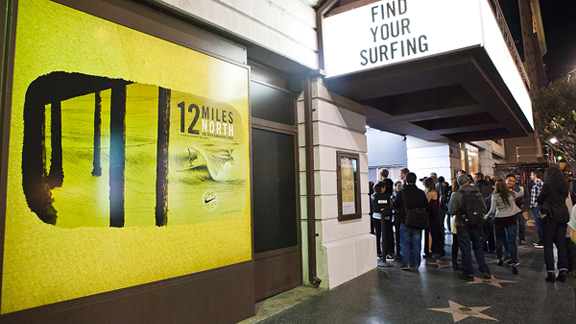 Tom Servais"12 Miles North" gets the Hollywood treatment.
"12 Miles North: The Story of Nick Gabaldon," is unlike any surf movie you've ever seen. Not because the wave-riding is aerial-esque and "progessive," not because it carries you away to a far off, dreamy lineup, and not because it was subsidized by sportswear giant Nike. Rather, "12 Miles North," believe it or not, is a surf movie that deals with actual, real-life social issues, most notably race.
In the 1940s Gabaldon frequented the Inkwell in Santa Monica, a stretch of sand predominantly enjoyed by African Americans. An avid bodysurfer, he eventually caught the eye of then lifeguard Buzzy Trent (who would go on to pioneer surfing at the North Shore of Oahu). Trent started lending Gabaldon his board with some regularity, and like so many surfers before and after, Gabaldon was hooked.
As he evolved as a surfer he began wanting to test the waters further afield, which is what led him to start paddling from the Inkwell to Malibu -- 12 miles north. Gabaldon found himself in the midst of the budding surf culture, eventually earning himself a distinguished spot in the lineup amongst luminaries of the day such as Peter Cole, Ricky Grigg and Micky Muñoz. But tragedy struck in 1951 when Gabaldon tried to shoot the Malibu pier, hit a piling and drowned.
With the exception of Tony Corely, Rick Blocker and the Black Surfing Association, this story has largely gone untold. Few still pictures and no moving images of Gabaldon exist, and until now he's been lost to time. Thankfully director Richard Yellen and his team have resurrected him.