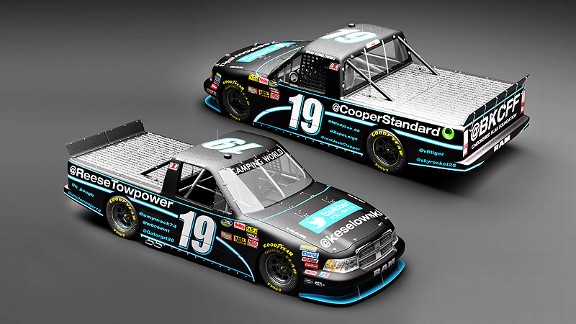 Brad Keselowski RacingAbout 2,600 fans' Twitter handles are listed on the bed of Brad Keselowski's NASCAR truck.
Sports fans are used to seeing Twitter handles pretty much everywhere these days -- across jerseys, placed courtside, on athletes' biceps. However, NASCAR's Brad Keselowski is taking social media promotion to a whole other level.
The driver, who is racing in the Daytona 500 on Sunday, also will pilot a truck in NASCAR's Camping World Truck Series race at Daytona on Friday. But not just any truck. Keselowski's No. 19 will feature the Twitter handles of more than 2,600 fans selected through a contest run on the microblogging site.
Keselowski is active on social media and saw the contest as a way to take fan engagement even further.
"Everyone on the platform wants more followers, myself and the sponsors of Brad Keselowski Racing included," Keselowski said. "This sounded like a fun way to accomplish everything we're looking to do with social media in a fun, unique way."
To enter, fans had to follow the driver and two of his sponsors, then retweet Keselowski's Jan. 31 post, "On feb.24th I'll be running in the #Nascar truck race on speed for @CooperStandard @ReeseTowpowerWhere do u think I'll finish? RT to win!" The contest generated thousands of tweets and entries.
Keselowski's truck marks the first time that thousands of social media handles have been displayed on a NASCAR vehicle, which presented some challenges.
"The design went through several designs, several changes," Keselowski said. "When you talk about putting thousands of names on a truck that takes up a lot of space. So it was all about figuring out how to best utilize the finite space we had."
The handles will be displayed on the bed of the truck with 10 winners having their Twitter names displayed prominently on the truck's doors.
"I feel like this is an important new frontier," Keselowski said of social media. "It's exciting to me to push it to new areas."