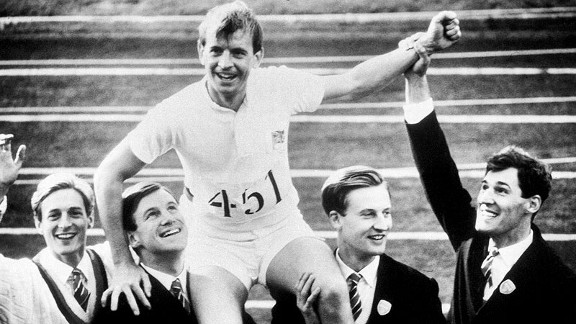 AP Photo'Chariots of Fire' won four Oscars, including best picture, in 1981.
With the Academy Awards airing Sunday, I decided to use the first of my semi-regular Olympics columns to revisit the most acclaimed and honored movie ever made about the Olympics.
"Chariots of Fire" tells the true story of two runners, one Jewish, the other a Scottish missionary, who followed their convictions and ran to glory at the 1924 Olympics in Paris. The movie won four Oscars in 1981, including best screenplay, best original score and, of course, best picture. I loved "Chariots" when it came out and was happy to see it beat the overhyped "Reds" for best picture (though I was disappointed to see "Raiders of the Lost Ark" lose).
Was "Chariots" really the best movie that year, better than "Reds," "Raiders" and other nominees, "Atlantic City" and "On Golden Pond"? Well, it was obviously better than "On Golden Pond." But how does it stack up 30 years later?
To see whether "Chariots" really deserved Academy gold, let's go to video replay …
Scene 1: On the beach: The movie begins at the 1978 funeral service for Olympic champion Harold Abrahams, then quickly cuts to the famous beach scene where we see a young Abrahams and fellow 1924 British Olympians running across the sands. They wear white shirts and shorts, along with the sort of joyful expressions that indicate they should be tested for non-performance-enhancing drugs.
Perhaps they are so euphoric because they are hearing the Oscar-winning Vangelis soundtrack, a score so stirring that the synthesizer music still sounds cool three decades later. Are there any runners alive who haven't recreated this scene in their heads at least once? For that matter, is there anyone who hasn't posted a YouTube video of themselves running to this song? (For all the copies and parodies, none are better than this one by "SCTV" and Hall and Oates --yes, Hall and Oates!)