Welcome back to another edition of Page 2 Jeopardy!, the quiz that tests your knowledge of sports, pop culture and assorted trivia. Please remember to phrase your responses in the form of a question.
(Correct questions at the end of the quiz.)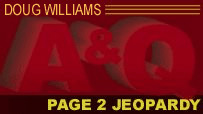 1. Answer: He's the only NBA player in history to record a double triple-double, with 22 points, 25 rebounds and 21 assists in a single game.
2. Answer This NBA player's apparel company, called Active Faith, has a line of T-shirts, sweatshirts and wristbands with a Christian message that are now being worn by athletes in all major sports.
3. Answer: Giants manager Bruce Bochy said this week he won't allow catcher Buster Posey to block home plate this season because of the injuries he suffered in a collision with this Florida Marlins player in 2011.
4. Answer: She says she's uncomfortable being described as a sex symbol and asks why men aren't described that way, saying, "Do you call Blake Griffin a sex symbol because he was on the cover of Men's Health with his shirt off?"
5. Answer: He's Australia's fifth richest man and the owner of the Gold Coast United soccer team in the A-League, but he angered the nation's soccer fans when he said of the sport: "I think it's a hopeless game. Rugby league's a much better game."
Question 1: Who is Wilt Chamberlain?
Question 2: Who is the Timberwolves' Anthony Tolliver?
Question 3: Who is Scott Cousins?
Question 4: Who is Danica Patrick?
Question 5: Who is Clive Palmer ?