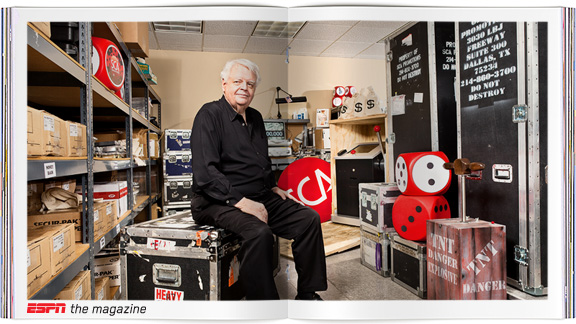 Jeff WilsonEnticed by a pop-up ad to crack the vault for the chance to win $100,000, today only? Hamman is likely the guy backing it.
Editor's note: Last Sunday, during the New York Knicks game against the Dallas Mavericks at Madison Square Garden, 21-year-old Mike Sapraicone of Long Island beat the 100-1 odds and drained a half-court shot to win a KIA Optima in a third-quarter promotion. He also took home $1,000 for qualifying, which he earned by sinking five free throws in 30 seconds. It was a rare loss for SCA Promotions, the insurance company that covered the prize package and is the subject of this story.
IN THE SPAN OF TWO MINUTES, Paul Choez has gone from being just another Orlando Magic fan at the Amway Center to the main event. Moments ago, Erin Daniels, a Magic exec, approached him at his seat in the terrace level and told him he'd been randomly selected to participate in a third-quarter shooting promotion. The prize: a $27,000 car. Now Daniels is leading Choez through the underbelly of the arena. "This is insane," says the 27-year-old, furiously texting everyone he knows.
Daniels asks Choez, a season-ticket holder, if he's ever played pro ball or if he's played on a college or high school team in the past five years. If he has, he's ineligible to participate. Choez, a soccer enthusiast who hasn't picked up a basketball in months, shakes his head no, and they keep moving, closer and closer to the court. Standing at the mouth of the tunnel next to a group of Magic Dancers, a blonde catches his eye.
"You got this. You excited?" she asks, smiling.
"Yeah."
"You good at basketball?"
"Yeah," he says, not missing a beat.